Dolls can probably get away without wearing undies or shoes or hats, but what fun is that? If you want to complete your Toni doll's wardrobe, you can find or make underwear for her.
There's a minimal amount of sewing for a pair of underpants, so maybe you would want to try making your own. You could hand-sew them or use the sewing machine. Either way, it might be just the project to start your child learning to sew.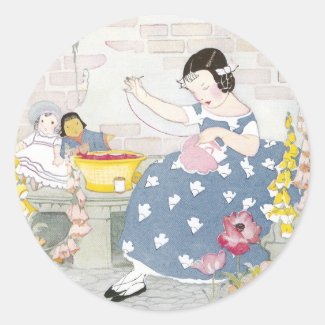 Sewing in a Garden of Foxglove & Poppies
by pinkalmond
I found a YouTube video tutorial for making underpants for an American Girl doll. These are a little stockier in the body than the Toni doll. Take a look at the video, then adjust it for your doll. Click here to watch the
video on making doll underwear
.
They use a sewing machine in the video. If you don't have one, you might like the
mini-machine
for making doll clothes. They are easy to store, aren't as complicated to learn as a full-size sewing machine, and are quite inexpensive.The one I have is very similar to this one. 
I'm all for keeping the sewing to the least amount possible, so I'd opt for a stretch material that would not need hemming at the leg openings and the waist.